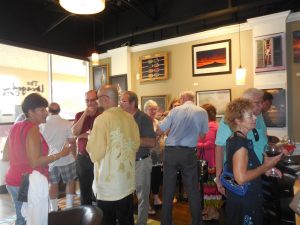 No Gathering in December — Enjoy all the events available in our wonderful community!
The next Romanza Gathering is scheduled for Tuesday, January 9, 2018 at 5pm – 7pm
at The Raintree Restaurant, 102 San Marco Avenue.
We're looking forward to seeing all of you again!
---
ROMANZA MONTHLY GATHERING MIXERS
Held on the Second Tuesday of the month 5:00-7:00 PM
These Gathering mixers are a unique and comfortable opportunity for the creative community to socialize, communicate and share ideas and information. You'll meet fascinating people from St. Augustine's Arts, Culture, Heritage, Attractions and Business organizations.
This networking program is open to all individuals and cultural organizations, members and non-members alike.