Welcome To Romanza
Romanza is a 501(c)(3) not-for-profit organization.
Romanza's Mission is to promote and produce cultural events that showcase St. Augustine's vibrant living culture, enhance the quality of life for residents, and create a positive lasting impression of the Nation's Most Romantic City for visitors.
"Romanza"in Italian, is a love affair Here, Romanza is a love affair with St. Augustine. It's a collection of unforgettable experiences in music, dance, visual arts, theater and cuisine, all steeped in this truly unique historical setting.
"Romanza"in Spanish, is a love song a chorus of voices celebrating St. Augustine's rich cultural legacy, natural and architectural beauty, unparalleled history and creative energy.
"Romanza"in Spanish St. Augustine means Music, Dance, Theatre, Art & Cuisine
Romanza attracts local, regional and international audiences by featuring headliners and an exceptional cast of regional and emerging stars. Venues include traditional auditoriums as well as a collection of unique historic and cultural spaces most within comfortable walking distance.
---
Monthly Gatherings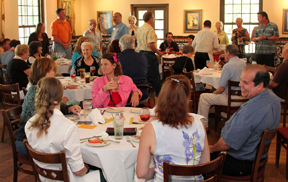 ROMANZA'S MAY GATHERING
DATE: Tuesday, May 13th
TIME: 5:00-7:00 pm
PLACE: Colonial Quarter Stage,
33 St. George Street
FSDB's OuttaSight Band performs as part of the Festivale starting at 6PM
---
CASH BAR/NO RESERVATION NECESSARY
All welcome, not just members.
No cover, cash bar, no reservations needed
Check our calendar for more Gatherings dates
ROMANZA MONTHLY GATHERING MIXER
Second Tuesday of each month 5:00-7:00 PM

Meet fascinating people in Arts, Culture, Heritage, Attractions and Business at our Monthly Gatherings.
Gathering mixers are a unique and comfortable opportunity for the creative community to socialize, communicate and share ideas and information. You'll meet fascinating people from St. Augustine's Arts, Culture, Heritage, Attractions and Business organizations.  
This networking program is open to all individuals and cultural organizations, members and non-members alike.
Come out and join in the fun!