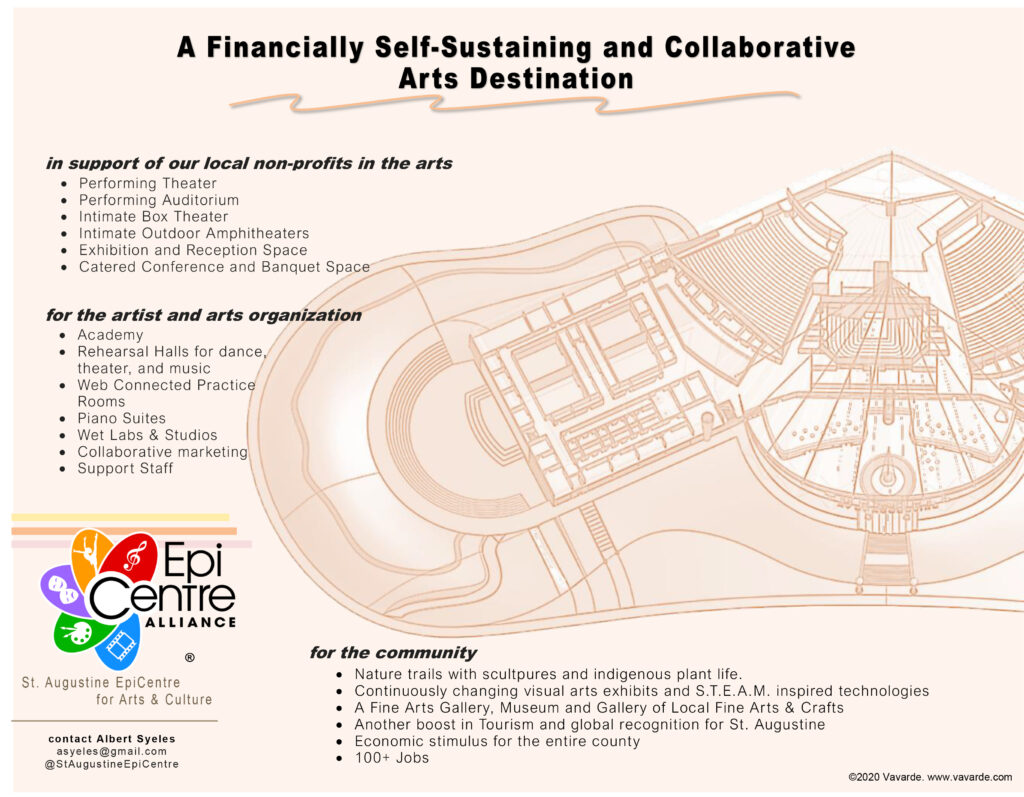 to St. Augustine's
Do you enjoy all the wonderful activities that 
St. Augustine has to offer?
Dining, shopping, gallery hopping, pub-crawling, carriage rides, museums, etc.?
And what about all the concerts, plays, shows, exhibits, nightlife, and festivals that seem to never end?
If you do, we need your help.
Did you know that even though St. Augustine has a population of roughly 14,000, it has more than 50 performing and visual arts nonprofit organizations that present delightful events all year round? That's because this accessible and affordable arts, culture and heritage scene attracts people like you from across the region, the nation and even around the world.
Demand for events keeps growing, but our talented and expanding arts community has literally run out of performance space in this small town. St. Augustine does not have a dedicated indoor performance space with more than 250 seats, aside from schools, which are also outgrowing their facilities. A performing arts center can be a hub of artistic and educational activity, a centerpiece of an existing arts district, a catalyst for economic development and new investment, and a cultural legacy for many generations to come. It can attract high-value commerce and enjoyment to Downtown year round.
That's why we need your help.
Who's "we"? The EpiCentre Alliance: a nonprofit coalition formed to promote, build and sustain a visual and performing arts center in the St. Augustine area.
Its founding members include:
A Classic Theatre (ACT),

EMMA Concert Series and Guild,

First Coast Opera,

Romanza – St. Augustine,

St. Augustine Chamber Singers,

St. Augustine Community Chorus,

St. Augustine Concert Band,

St. Augustine Film Society,

St. Augustine Music Festival,

St. Augustine Orchestra

and several individual community leaders who support the arts.
The Alliance members have already contributed significant funds for incorporation and nonprofit administration.
The St. Johns County Tourist Development Council authorized a Market and Feasibility study. Johnson consulting firm completed their study in July 2019.  They found that an arts center in St. Johns County would not only be viable, but it would have a strong economic impact on the county.
Vavarde Strategic Funding, after thoroughly researching the needs and opportunities of St. Augustine's creative community, residents, businesses, and visitors, has provided a detailed strategic business plan, engineering specifications, and CAD designs for The Shell at St. Augustine.

And we have already received strong interest from major investors.
The Alliance does not expect the county or the city to build and manage a performing arts center. It needs to be managed by a for profit company in conjunction with the EpiCentre Alliance. But there is much to do to both plan and operate The Shell.
This is where you come in.
First, peruse the TDC's Ars and Cultural Center study below. Then look up St. Augustine EpiCentre for Arts & Culture on Facebook. Follow us on social media and leave your thoughts and suggestions. The EpiCentre Alliance will use your input as it evolves its professional business plan.
For more information, contact EpiCentre President Albert Syeles [email protected]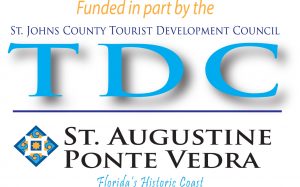 Click the image for the full 145-page PDF of the Feasibility report.